FAMOUS CHAMPAGNE QUOTES: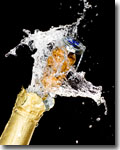 "Come quickly, I am tasting the stars! ~ Dom Perignon, at the moment he discovered champagne

"My only regret in life is that I did not drink more Champagne." John Meynard Keynes

"Three be the things I shall never attain: envy, content and sufficient Champagne." Dorothy Parker
"Two warm bodies and one cold bottle of Champagne will produce something more wonderful than would happen without the Champagne." Helen Gurley Brown
"Champagne is the wine of civilization and the oil of government." Winston Churchill
"Too much of anything is bad, but too much Champagne is just right." F. Scott Fitzgerald
"One holds a bottle of red wine by the neck, a woman by the waist, and a bottle of Champagne by the derriere." Mark Twain
In a perfect world, everyone would have a glass of Champagne every evening. ~ Willie Gluckstern
CHAMPAGNE FACTS...
The next time you pop the cork off a bottle of bubbly, consider, for a moment, these intriguing facts:

If a raisin is dropped into a glass of champagne it will repeatedly bounce up and down between the top and the bottom of the glass.



The only 3 grapes that can be used in Champagne are Pinot Noir, Pinot Meunier and Chardonnay.

Every bottle of Champagne has foil wrapped around the outside of the cage. In the old days, foil was lead-lined to try to prevent mice from eating into the cork.

A champagne cork leaves the bottle at a velocity of approximately 38-40 mph, but can pop out at as fast as100 mph.

The pressure in a bottle of champagne is 90 pounds per square inch, about three times that in an automobile tire.

There are 49 million bubbles in a 750ml bottle of champagne, give or take a few, as calculated by scientist Bill Lembeck, based on 5.5 atmospheres of pressure, when stored at 20 degrees Celsius

Why do Champagne's large-format bottles have biblical names? According to the Champagne expert Francois Bonal, the name Jeroboam for the 4 bottle size has been used since 1725. It's presumed they selected Jeroboam, because he was know as "a man of great worth," as were the larger sized bottles.



The region of Champagne followed suit with larger format bottles developed in the 1940's by continuing the practice of selecting biblical kings and patriarchs: Jeroboam (4) – 1st King of Israel 931-910 BC, Rehoboam (6) - Banned by US and EU regulations, Methuselah (8) - Biblical patriarch who lived to the age of 969, Salmanazar (16) - King of Babylon: 539 BC, Nebuchadnezzar (20) - King of Babylon, 605-562 BC.
THOUGHT OF THE MONTH ....