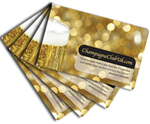 Giving a ChampagneClub Membership to your Friends, Family, Neighbours, Business Collejagues and Associates is the perfect present - whether for a Birthday, Christmas or just to say Thank You !!!



Your gift will have a life span of 12 months, much longer than flowers - Every time "A Welcoming Glass Of House Champagne On The House" arrives at the table for the member and up to 7 of their dining guests you will be thought of. If it's used over once per month the value over the year could be well over £1,000!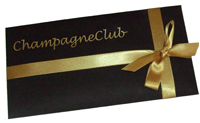 It's truly unisex – Both girls and guys love Champagne – it's elegant and always a treat!! It can be given as a gift to anyone aged between 18 to 100+ who enjoys going out, and being taken out, to Lunch, Dinner or Supper in London.

One size fits all – No more worrying if your gift fits that person or goes with that colour scheme/design of their home etc. The ChampagneClub membership card is the size of a credit card, so easily fits into a wallet or handbag. Just have a look at our website to view the full list of restaurants that are registered with www.ChampagneClubUk.com and to see their profiles.

Easy to Wrap, Carry and/or Post – As it's small and compact it's the perfect gift to take with you. It won't take up much room in your case or bag, it won't break, get squashed or leak!!
Enjoy !!!!!!!!!!!!!!!!!